Ventura Bicycle Accident Attorneys
Receive a Free Case Review By Calling
(805) 438-2440
The NHTSA reported that over 780 bicyclists were killed in traffic crashes throughout the United States in the year 2017. Additional statistics show that these fatalities occurred most frequently in urban areas (75%), rather than rural (25%) during the same year. Of those 780 accidents, 124 occurred in the state of California, making California one of the most deadly states in the U.S. for bicyclists.
While bicycling is a popular activity enjoyed by many, it can also lead to some devastating accidents. Many cycling accidents and collisions are caused by automobile driver negligence, which means that most accidents are actually preventable.
In Ventura County, even as efforts are made to get more people biking to work each day, the vast majority of commuters still travel by car or truck. When a bicycle is struck by one of those cars or trucks, it rarely goes well for the cyclist.
Common bicycle accident injuries include:
Abrasions
Bruises
Concussions
Muscle tears or strains
Bone fractures
Internal hemorrhaging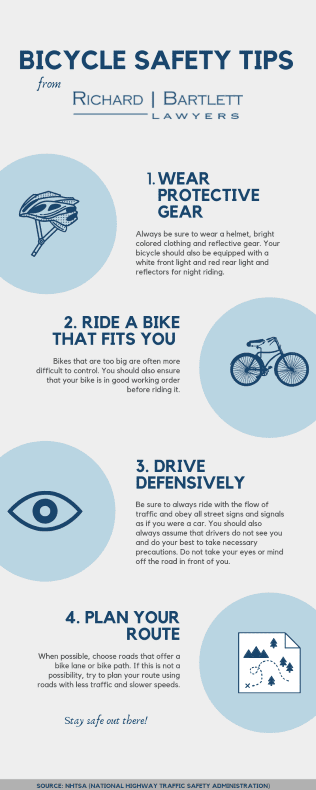 Ventura Injury Attorneys - Thousands of Successful Cases
If you were injured in a Ventura bicycle accident, it's what you do after the accident that will most influence your future livelihood. At Richard | Bartlett, our Ventura bicycle accident lawyers have been helping accident victims for over 30 years. Though driver negligence can be difficult to prove, we know exactly what to look for, and we make sure nothing slips through the cracks!
To date, Richard | Bartlett has recovered more than $100 million for our personal injury clients. No matter how minor or serious your injuries, we never settle for less than maximum compensation, and we never back down from a trial. If you are worried about legal fees, you don't have to worry. We advance all fees for your case, and you don't pay us unless we recover money on your behalf.
The initial consultation is free - in person or over the phone, and we'll come to you, evenings and weekends included. For a Ventura personal injury lawyers who will give you the attention you deserve, call us today.