Bicycle Accidents
An Award-Winning Proven History of Success Focused on Helping Accident Victims Maximize Their Compensation
Ventura Bicycle Accident Attorneys
Receive a Free Case Review By Calling

(805) 438-2440
The NHTSA reported that over 780 bicyclists were killed in traffic crashes throughout the United States in the year 2017. Additional statistics show that these fatalities occurred most frequently in urban areas (75%), rather than rural (25%) during the same year. Of those 780 accidents, 124 occurred in the state of California, making California one of the most deadly states in the U.S. for bicyclists.
While bicycling is a popular activity enjoyed by many, it can also lead to some devastating accidents. Many cycling accidents and collisions are caused by automobile driver negligence, which means that most accidents are actually preventable.
In Ventura County, even as efforts are made to get more people biking to work each day, the vast majority of commuters still travel by car or truck. When a bicycle is struck by one of those cars or trucks, it rarely goes well for the cyclist.
Common bicycle accident injuries include:
Abrasions
Bruises
Concussions
Muscle tears or strains
Bone fractures
Internal hemorrhaging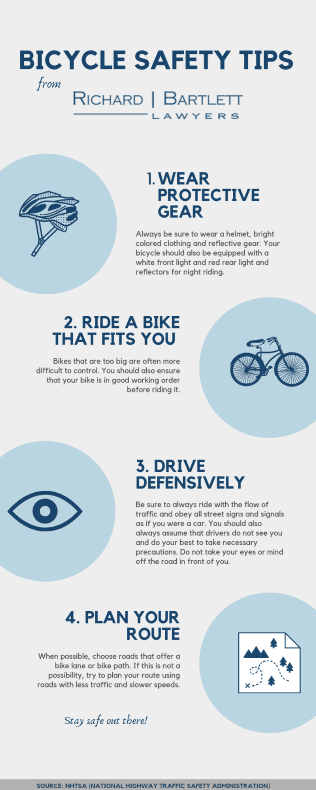 California Bicycle Laws: FAQ
With the amount of vehicles on California roads, riding a bicycle can be a dangerous pass-time. While the state of California does protect a cyclists' right to share the road, it's important for cyclists to be aware of some of the common misconceptions about what actions are and are not protected by law.
Q. Do cyclists have to stop at stop signs in California? While there has been talk of cyclists observing the "California Roll" in place of regular stop-sign observance, this is not yet legal in California. All cyclists are required to come to a complete stop at stop signs, rather than rolling through.
Q. Is it illegal to ride a bike without lights in California? When it comes to cycling after dark, cyclists are required by California Vehicle Code 21201(d) to equip their bikes with the following:
a white light that is visible from 300 feet in front and from the sides
a red reflector or light that is visible from 500 feet in the back
white or yellow reflectors on each pedal or shoe that is visible from 200 feet in the front and the rear
white or yellow reflectors on each side forward of the center of the bicycle and rear of the center of the bicycle (unless equipped with reflectorized tires on the front and rear)
Q. What is the California bicycle helmet law for 2019? CVC 21212 requires any cyclist under the age of 18 to wear a qualified helmet while operating their bicycle. Although this is not a requirement for cyclists over the age of 18, you should always wear a helmet to prevent serious injury in the event of an accident.
Ventura Injury Attorneys - Thousands of Successful Cases
If you were injured in a Ventura bicycle accident, it's what you do after the accident that will most influence your future livelihood. At Richard | Bartlett, our Ventura bicycle accident lawyers have been helping accident victims for over 30 years. Though driver negligence can be difficult to prove, we know exactly what to look for, and we make sure nothing slips through the cracks!
To date, Richard | Bartlett has recovered more than $100 million for our personal injury clients. No matter how minor or serious your injuries, we never settle for less than maximum compensation, and we never back down from a trial. If you are worried about legal fees, you don't have to worry. We advance all fees for your case, and you don't pay us unless we recover money on your behalf.
Our Clients Provide Their Feedback
Good Job Dave & Nichole

"If I need a lawyer again, you're the ones."

Highly Recommend

"They are kind, compassionate attorneys that really know how to best serve their clients."

Intelligent, Kind, Outstanding

"These lawyers worked day in and day out to help me receive the money I deserve."

Star Quality

"Richard Bartlett Lawyers measures above and beyond 5 Stars. They've demonstrated 'star quality'."

The Team at Richard Bartlett is Oustanding

"They are knowledgeable, experienced, friendly, and always accessible. I can't recommend this firm highly enough."
Learn If We Are The Right Fit for You
Attention

We limit our case load for personal attention.

Accessibility

We offer night and weekend availability.

Convenience

We provide home or hospital visits.

Diligence

We never leave a stone unturned.
Contact Richard | Bartlett Lawyers